It's been a while since I have had a chance to get on here and update all you good readers with the going's on at the farm. Life get's busy!!!

First off, Miss Loo Loo is finally all recovered from her RDA surgery. We had to do battle with a post surgery infection, which was no fun for her, or us. She's such a good cow, no matter how much squeezing or irrigating of her wound we did, she never once tried to kick us. Anyhow, she's all better, and back in with Ned the borrowed bull. Hopefully, she's pregnant!!! I'll have her vet checked in a few months to make sure.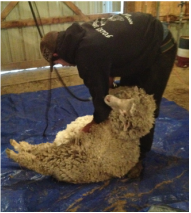 We got our shearing done for this year. 4 Beautiful fleeces!!! That's Artie getting his turn. He was less than cooperative given that it was his first time being shorn. So far I've only gotten one fleece skirted, and that's Brigit's. Oh she has beautiful fiber!!! Long, crimpy, soft! I cant wait until I can get it cleaned up and spun! The other three fleeces are for sale as soon as I get them skirted. We had an excellent year for fiber. I have been investing in coats for all of them so that next years fiber will be even better, with far less, if any, sticks, straw, hay, dirt, and stickers in it. Brigit, Artie, and Putt Putt are covered at the moment, and Lucy's coat is on the way. With all the rain we have had, and consequently, mud, I'm going to have to lock them in the barn for a day or two and wash all their coats. We found a used calf hut for sale, and have converted that to a sheep house for them when they are in the corral. I would love to find another two or three of them, and a big one for Miss Loo Loo. She will stand in the overhang in her corral, but I would like one where she can be out of the mucky area.

We added to our chicken flock, courtesy of Miss Moldy. She was looking to decrease her flock at the same time I was looking to add, it was a good trade! We are over run with eggs and I'm selling them as fast as I can get customers here. It's a good feeling to have real fresh eggs again. I do think I will be turning lots of them into home made pasta soon, plus freezing some, or dehydrating cooked scrambled eggs.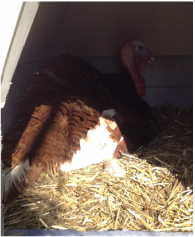 This is my gender confused tom turkey, he decided he was going to be the one to sit on a clutch of eggs. I have never seen a tom do this before. Right now, both he and the hen are sitting on them. I don't think any of them will hatch, but I don't have the heart to take them away. Eventually, they will give up and try again. Silly birds.

I got a chance to make a hat for myself. I blended and combed fiber from Putt Putt, Lucy, and Ned to make this Scottish tam. I dyed it with easter egg dye, and it came out kind of tie dyed looking. I love how it came out and it feels good to wear!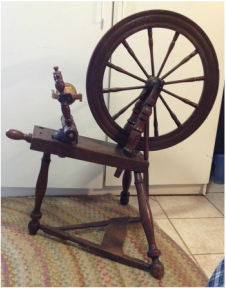 This is Nana, my birthday present from my wonderful, fiber enabler, sweet husband. She is an interesting mish mash of other wheel parts, and home made parts from what I can tell. Things on her don't match. I'm guessing she's about 100 years old. She needs some love and new parts to make her workable again. The wheel isn't warped, and looks like it will spin true.

So there's all the news from the farm. I need to go find my wandering sheep, they have gotten out of my line of sight while I'm sitting at the computer.