Miss Loo Loo gave us a good scare last week. On Wednesday she went partly off her food and started to look kinda droopy. Its not unusual for her to skip eating for a day or two, so at first we didn't think much of it. With the weather being as flakey as it has been, we were thinking she was just as tired of the cold and wet as the rest of us.

Again, on Thursday, she wasn't eating as much as she usually does, and she totally shunned her grain. Shunning grain is pretty much unheard of for her. Her milk production dropped by about a gallon per milking too. We discussed it as a family and felt that giving her a dose of antibiotics would be in order. She has had hoof rot in the past, we the general thinking was she was having a relapse of that again.

On Friday morning, the kids couldn't get her up from the corral to get her in for milking. Well, this is a bad thing. So I busted my butt to get out of work, and rush home. Yup, she was down. CRAP!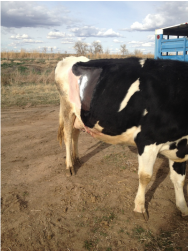 So I called the vet's office and asked for a doc to come out ASAP to see our sick girl. Dr Hoffman showed up and we discussed what she was and wasn't doing, past med history, poop and pee history, any feed changes (none), and if she was pregnant (not). Doc went slogging thru the muddy corral over to Loo Loo and did her exam. She kept doing the stethoscope and finger thumping on both sides. Right, left, right, left, stand her up, right, left, right, left. Let's put her in the milking stanchion for a rectal. Loo Loo just loves those, and the good girl that she is, didn't kick the doc.

We have a diagnosis.......drum roll please........

Right Displaced Abomasum aka RDA

CRAP!

Doc explains there are two types of RDA she could have. One fatal, one not so much. Only way to know is to open her up surgically and see if it's just floating around in there or if it's floating and twisted. For your information, the twisted one is fatal.

So I call hubby, who has the only truck that can pull the stock trailer with him at work, and explain we need to take her into the clinic for surgery. Course this would have to be during one of the busy days he has due to things self destructing at work, and it falls on him to fix. I think he made it home in record time, all things considered.

Got her loaded up with no problem. Have I mentioned that she's a good girl? She really is! Off to the clinic we go. It kind of pissed me off to hear the doc say to me "you know, you might just want to sell her while you can still get something out of her" NO doc, she is family, and she needs to be saved. DUH! It broke my heart to have to leave her there, after many hugs and kisses.

The phone finally ran at 3:30 in the afternoon. That gut dropping dread set in before I answered it.

"Hi, it's the doc at the clinic, your cow is all ready to be picked up, she was fine all thru the surgery."

WOOHOOO!!! Happy dances all around!!!!

For some reason that we don't know, other than she had a bad bout of not being able to burp, her abomasum filled with gas and floated upside down. They opened her up, decompressed the abomasum and stitched it back down where it belongs. Closed her up, loaded her up with pain meds and antibiotics, and pronounced her healed.

She's doing well now. Spending her time between the barn and the steer pen, eating, drinking, and producing more milk. We will take out the external stitches in another week and a half, and in a month after her insides heal completely, we can put her back in with the bull to get her pregnant. The silver line in the pics above is her incision. Pretty, huh?

On a side note, while all this was going on with Loo Loo, we also thought that Lucy was in labor. Turns out it was false labor for her and she still hasn't had her babies, of which I, and pretty much everyone else, think there are atleast two in there. Right now she looks like Jabba the Hut when she lays down. Sorry Lucy! I'm hoping she has them on Friday the 20th, which is Ostara. It would be very cool to have Ostara babies!

Blessings! Fat Turkey Farm